Most of the National exams given in the United States follow the formula below in developing questions. The NREMT is one of these tests. If you begin to understand what type of questions you are being asked it will allow you to begin to know how to apply the correct response. This is some deep reading, but has helped me a lot in my test taking. Read through the information then see if you can start to figure it out as you take practice tests. I'll try to give a few examples at the end.
In 1956, Benjamin Bloom headed a group of educational psychologists who developed a classification of levels of intellectual behavior important in learning. Bloom found that over 95% of the test questions students encountered required them to think only at the lowest possible level...the recall of information.
Bloom identified six levels within the cognitive domain, from the simple recall or recognition of facts as the lowest level, through increasingly more complex and abstract mental levels, to the highest order which is classified as evaluation. Verb examples that represent intellectual activity on each level are listed here.
1. Knowledge: arrange, define, duplicate, label, list, memorize, name, order, recognize, relate, recall, repeat, reproduce, state.
2. Comprehension: classify, describe, discuss, explain, express, identify, indicate, locate, recognize, report, restate, review, select, translate,
3. Application: apply, choose, demonstrate, dramatize, employ, illustrate, interpret, operate, practice, schedule, sketch, solve, use, write.
4. Analysis: analyze, appraise, calculate, categorize, compare, contrast, criticize, differentiate, discriminate, distinguish, examine, experiment, question, test.
5. Synthesis: arrange, assemble, collect, compose, construct, create, design, develop, formulate, manage, organize, plan, prepare, propose, set up, write.
6. Evaluation: appraise, argue, assess, attach, choose, compare, defend, estimate, judge, predict, rate, core, select, support, value, evaluate.
The chart below shows the increasing level of complexity of question construction.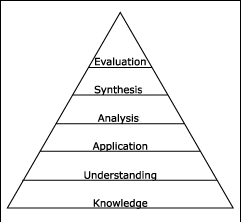 The NREMT exam follows a similar formula in that it starts with the basic Knowledge then begins to increase the style of question to determine the candidate's true grasp of a subject. This is why you will see similar questions during the test. Questions will be written in a slightly different way to see if you truly grasp the concept around it.
Questions given during your training are questions in the "knowledge" category 80% to 90% of the time. These questions are not bad, but using them all the time is. Instructors should try to utilize higher order level of questions. These questions require much more "brain power" and a more extensive and elaborate answer. Below are the six question categories as defined by Bloom. After each one is an example of how the question would be worded (started) so that you can begin to decipher at what level this question is being formed.
KNOWLEDGE
Remembering;
Memorizing;
Recognizing;
Recalling identification and
Recall of information

Who, what, when, where, how ...?
Describe
COMPREHENSION
Interpreting;
Translating from one medium to another;
Describing in one's own words;
Organization and selection of facts and ideas
APPLICATION
Problem solving;
Applying information to produce some result;
Use of facts, rules, and principles

How is...an example of...?
How is...related to...?
Why is...significant?
ANALYSIS
Subdividing something to show how it is put together;
Finding the underlying structure of a communication;
Identifying motives;
Separation of a whole into component parts

What are the parts or features of...?
Classify...according to...
Outline/diagram...
How does...compare/contrast with...?
What evidence can you list for...?
SYNTHESIS
Creating a unique, original product that may be in verbal form or may be a physical object;
Combination of ideas to form a new whole

What would you predict/infer from...?
What ideas can you add to...?
How would you create/design a new...?
What might happen if you combined...?
What solutions would you suggest for...?
EVALUATION
Making value decisions about issues;
Resolving controversies or differences of opinion;
Development of opinions, judgments, or decisions

Do you agree...?
What do you think about...?
What is the most important...?
Place the following in order of priority...
How would you decide about...?
What criteria would you use to assess...?
This is the nuts and bolts of how an NREMT exam is built. Below is an example of how an NREMT question is constructed. This will give you some insight into the thinking behind each question.
Steps to Question Writing
A well-designed multiple-choice item consists of three main components: a stem (asks a question or poses a statement which requires completion), key (the correct answer/s), and distracter(s) (incorrect option/s). The following section is designed to enhance the candidate's understanding of the NREMT question writing process.
Step 1. Select an area of the test plan for the focus of the item
* Patient Assessment
Step 2. Select a subcategory from the chosen area of the test plan
* Multiple patient incidents
Step 3. Select an important concept within that subcategory
* Assess and triage among a group of patients to prioritize the order of care delivery
Step 4. Use the concept selected and write the stem
* The EMT arrives on scene of a vehicle accident.
Which is the most critical patient that should be transported first?
Step 5. Write a key to represent important information the entry-level EMT should know
* Altered Level of Consciousness
~ A patient who doesn't remember the accident or what the day is.
Step 6. Identify common errors, misconceptions, or irrelevant information
* Distracting injuries
* Smell of alcohol
* Lack of understanding of expected findings related to a specific clinical finding
Step 7. Use the previous information and write the distracters
~ A patient who has a large bleeding gash to the right arm
~ A patient who smells of alcohol and is having trouble walking
~ A patient with moderate Alzheimer's disease (AD) who is asking to talk with the spouse who died several years ago
Step 8. Complete the item using the stem, key, and distracters
The EMT arrives on scene of a multiple vehicle accident. After assuring scene safety and assessing the patients, whom should the EMT transport first?
1. The patient who doesn't remember the accident or what day it is. (Key)
2. The patient with a large bleeding gash to the right arm.
3. The patient who smells like alcohol and is having trouble walking straight.
4. The patient, whose family states, has moderate Alzheimer's disease and is asking to talk to a spouse who died several years ago.
In this example you can see that the question is asked at the Evaluation level of Bloom's Taxonomy. That is the highest form of question. It requires you to know information about each answer option, and then weigh each against the other to determine an order of care.
In this sample question you can see that a patient with an altered level of consciousness would be the most critical given the information you have. A large bleeding gash is a distracting injury, easily treated with bandaging, and not requiring the most immediate transport. A patient who smells like alcohol and is possibly intoxicated does not in itself warrant immediate transport. This would probably be the second most critical due to mechanism and not being able to determine LOC as easily as others. The patient who is asking to speak to a dead spouse has a disease that would make this type of response normal. This is the type of question that the NREMT likes to give. It requires you to really think about each option and only use the information presented in the question and answers.
EMT-National-Training.com would encourage every person to read all the available information on the NREMT website. They detail for you how their tests are constructed and administered. Knowing this information helps you be better prepared and more sure in your ability to test.